Gold Panning, Potato Creek, Black Hills, South Dakota​
​($100 per person per day, $25 for each additional person, 12 and under are free. More information on costs at bottom of page) (up dated 7/1/19)

The summer of 2019 was the best ever as we found gold and gem stones in every pan. As we ended the summer we moved into a inside bend in the creek that was yielding appox. 150 flakes per pan. We found a large number of nice garnets. Most of these stones are faceted as if they had been cut to fit in a ring. Mike also made a number of improvements to his equipment that have made the tough job much easier. These improvements have still kept to the rule of no power equipment as in the 1800's. We are looking forward to another great summer in 2020. You can also watch us doing some gold panning on the TV show fishing friendzy with Austin Vanderzee.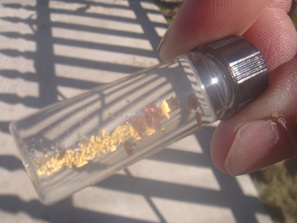 ---
Good friends and family find gold in the hills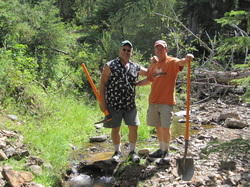 ---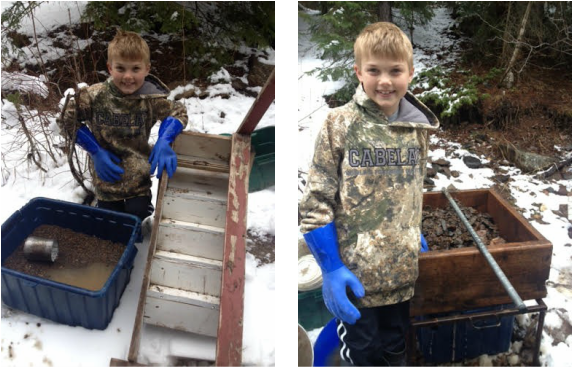 ---
The abandoned Fillmore Mine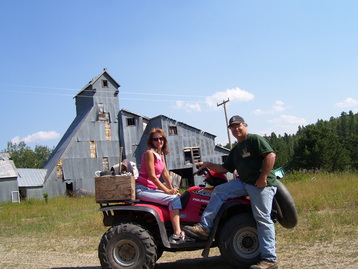 ---
My Story
Panning fun
The idea to go gold panning was somewhat of a spur of the moment outing. I was visiting my brother in Spearfish when we decided to try some gold panning in the hills to the west of town. The drive was not long and the scenery along the way made the trip seem even shorter. When we arrived at the claim, we carried our tools and pans to a spot along the creek that looked promising. After being shown what we needed to do to setup our panning operation, I started panning for gold. The weather was fantastic and water cold. The panning looked a lot easier when Mike was doing it. After a few pans and some additional instruction, I got the hang of it. It wasn't long before I found my first small flecks of gold and deposited them into my glass bottle. During breaks from panning, I imagined what it was like during the gold rush and thought about the prospectors that probably were panning like this in this very stream. When we had enough panning for the day, we packed up our tools and pans and headed back to town. I did not get rich with amount of gold I found but I had an experience that I will never forget.
Jeff Berg, Sioux Falls, South Dakota
What's it going to cost to haul the gold away