When you are on the web site keep in mind that Mike and Rochelle will only book two days per week. First come first served. We do not accept deposits and rely on your good word when booking.
New addition with Two Feather Outfitters with Robert Smith (see Two Feathers Guides page)
(information last up dated 11/18/19)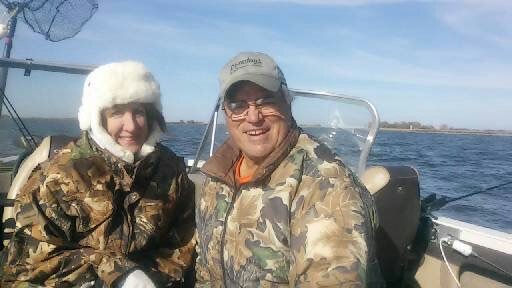 Guess it is time to up date our site as the winter has been a tough one for us. This winter was the 5th coldest winter on record for the Black Hills area. We had to live in our camper since November as our house caught on fire and burned. Mike has spent the time rebuilding it as the general contractor for the job. He could not have done it with out the help of his good friend Bill C. Mike wired and did the plumbing work him self. The sheet rock work is almost done so we will be maybe back in by middle of June.
It was a great fall hunting season with both Rochelle and Mike filling both their archery tags. They both got nice bucks and a doe on the Hungry Hollow Canyon. We did no other hunting or trapping this fall due to the house fire.
The gold panning was outstanding too with lots of gold and garnet gem stones found. We even found our biggest nuggets so far in a pair 1/8th by 3/16th by 1/16th inches. They were whoppers and am sure there are more where that came from. We ended the season by starting to drop into a big hole that was over two feet deep and going down. That is where the good stuff is found. We will go after that this summer for you gold seekers. Thanks for stopping in for a look at our site.

Mike and Rochelle were on the CMT TV show "My big Red Neck Vacation" fall of 2013. It's called the Mount Rushmore episode, shot in the beautiful Black Hills of South Dakota

Mike has now shot three seasons of a tv show called Hunt Fish Love and Fishing Friendzy. Mike and Austin are fishing trout in Spearfish Creek. catching wallet in Orman Dam, and even throw in one show of gold panning on Potato Creek in the Black Hills.

Rochelle Berg was awarded the Trapper Woman for the year 2013-14 at the State Trappers Association meeting in Huron
​
​ We just completed the 2019 season of gold mining.
Last summer was great on the gold panning as we had one group that found enough gold (fancy electronic gram scale) when we weighed it to cover the cost of the outing. The work is still hard but we made a couple of improvements on our old time panning methods. We have figured out a little better method of getting more gold from the material we work with my new design shovels. The other item is a better method of adding water to the rocker sluice. We still have done nothing that could not have been done by the old timers. We have only worked about 20 yards of creek and will never run out of room to work with another mile or so to go.
---
Gold panning on Potato Creek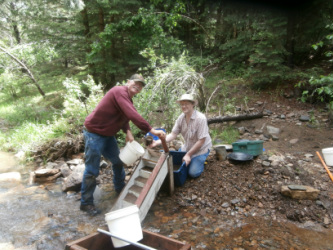 Gold panning has been made popular by all the TV shows today. You can experience the excitement while keeping the gold and gem stones you find in your pan starting at a $100 for one person with only $25 for each person after that. You will do it just like the good old boys did back in the 1800's and learn to appreciate how hard they had to work to put food on the table. All equipment is provided for your adventure on the most famous creek in the Black Hills, just bring your adventurous spirit. Potato creek Johnny found his 7 ounce nugget here and maybe you can get lucky too.
See this page for more information
.
---
Best trout stream in America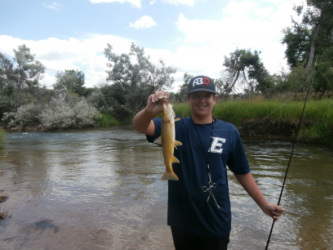 When it comes to the water we can take you trout fishing in the beautiful Spearfish Valley. Spearfish Creek is very abundant in it's Brook, Brown, and Rainbow Trout.
Spearfish Creek
was rated number 1 in the world for trout fishing. These are all wild natural trout and not stocked so they are fighters and can make up a tastey dinner. To see Mike (Bergie) in action tune in to
Hunt Fish Love
TV show on your computer and watch the action. We do not charge for this service and only rely on your generous gratuities.
See trout fishing page for more information
.
---
Walleye Fishing at Orman Dam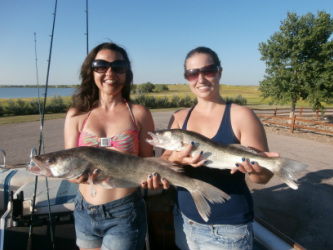 If your preference is Walleye fishing from a boat we have the opportunity for you. For only $150 for first person and $50 for each additional person.
Orman dam
is one half hour from Spearfish and is one of the best kept secrets in
South Dakota Walleye fishing
. With a slot limit from 15 to 18 inches we can catch upwards of 50 fish in a single day. Our 2015 19 foot Super Hawk Crestliner has plenty of room for pulling in your fish while sitting back with your favorite beverage and relaxing. If you like to camp there is a
Rocky point state park
on the lake or you can stay for free on the Bureau of Land Management land.
See walleye fishing page for more information
.
---
Prairie Dog shooting, Deer hunting, Turkey hunting with Robert Smith of Two Feathers Outfitters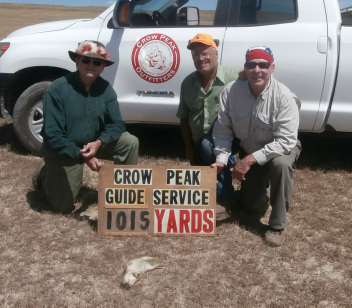 Robert is an outstanding small game guide with lots of prairie dog towns to shoot on. He has taken clients on deer hunts of world caliber level. The deer his clients have harvested in recent years are record book quality. The pictures you will see can testify to this big time. Robert can get you to the places where the super turkeys live and strut their stuff. This former assistant football coach of Mike's is a hazardous waste site manager/engineer for the Cheyenne Tribe and a rancher cowboy with his father and brother. Let Robert take you on a hunt of a life time on the Cheyenne River Indian Reservation. He is a great host/guide/person you will love to gain as a friend.
See the Two Feather outfitters page for more details.
---
Some thing about us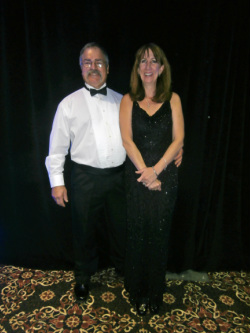 Michael (age 67) and Rochelle (age 58) Berg have lived in the Black Hills for 35 years. They are avid hunters, trappers, fishers, and explorers.
Mike is a former high school and college stand out football player. He is a retired Industrial Arts, Physical Education teacher, and high school administrator/principal. Rochelle is a Mary Kay Consultant and Mike's huntin' and fishin' buddy. Mike, a member of the South Dakota Powerlifting Hall of Fame, has competed in the sport of power lifting for over 45 years with state, regional, and national titles to his name. Rochelle and Mike split their summer days between golf (Mike hit a 37 on the front 9 of Elk Horn Ridge golf course) and other outdoor adventures.
Mike is an experienced coach and teacher, he will have you out having fun fishing, and finding gold in no time. Most of the equipment for all these adventures is designed and built by Mike and works great.
---
---

Secret Garden Bed and Breakfast.
938 North Ames Street, Spearfish 605-642-4859
secretgardenspabb@gmail.com
secretgardenbandbspa.com
Check them out as they are right across the street from us and have rates the same as the chain motels in our town and way nicer to stay in. Sammy, Sonya, Shanon, and Jenny (mom) serve up a great breakfast in the morning. Really cool place that was built in 1892 by the Hearst Family when they owned the Home Stake gold mine in Lead/Deadwood. If you catch walleye/trout with us and stay at the Bed and Breakfast Mike will even come over and cook your fish for supper.​
Contact Information
Michael V. Berg M.Ed. and Rochelle Berg
945 North Ames Street
Spearfish, South Dakota 57783
Cell phone 605-641-4754
email address -
michaelberg32252@gmail.com (mike checks this once a day)
email address -
mberg1@crowpeakoutfitters.com